596 vizite
0 comentarii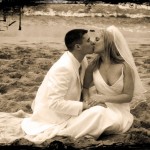 TENDINTELE ANULUI 2010 – Stilul clasic inlocuit de cel indraznet
In anul 2010, pretul pe care il vor plati mirii pentru organizarea nuntii va diferi mai mult ca-n anii precedenti – si anume: Cei mai pretentiosi, care-si doresc o nunta luxoasa, vor scoate din buzunar peste 30000 euro, acest pret insemnand o nunta de la A la Z, pe cand celor cu mai putina dare dare de mana, anul acesta le rezerva surprize placute. Sunt la moda nuntile in propria curte, accesoriile hand-made, florile in ghivece, decoratiunile rustice si vintage, pe care mirii le pot gasi la anticariate, in targuri cu vechituri sau in podul propriei case…O astfel de nunta poate costa in total numai 6000-7000 euro.
Iata mai jos cateva noutati in ceea ce priveste organizarea unei nunti in 2010:
1. Nuntile in propria curte
Nuntile intime, restranse, organizate in propria curte sunt mai in tendinte ca oricand.
2. Culori
Palete monocromatice – acest lucru nu înseamnă sa scaldati tot evenimentul intr-o singura culoare, ci sa va jucati cu nuante ale aceleiasi culori.
Culori vibrante: portocaliu, verde, galben, roz.
Culori metalice: aur, argint, cupru, şi plumb.
Negrul este cu siguranta vedeta acestui an – Numai pentru cei indrazneti
3. In armonie cu natura
Mesele invitatilor vor fi frumos decorate cu ghivece cu flori, intrarea va fi marcata cu ghivece cu copacei sau arbusti, iar locul perdelelor de lumini va fi luat de lumanari sau felinare.
4. Dansul mirilor – ZUMBA
In 2010 mirii vor fi mai noncomformisti si vor alege sa renunte la clasicul vals, surprinzandu-si invitatii cu Zumba Dance…
5. Rochia de mireasa:
Anul acesta miresele sunt nonconformiste, puternice, indraznete si sexy. Ele vor purta rochii scurte, negre, rosii, cu pene, decolteu asimetric, voal scurt, palarii in miniatura, palarii cu pene si neaparat manusi…
6. Marturiile
In 2010, invitatii vor remarca si totodata aprecia marturiile facute manual
7. Accesorii vintage sau retro
Cele mai in voga decoratiuni vor fi cele vintage – telefoanele, masinile de scris, megafoanele, bicicletele…etc
8. Coafura miresei va fi inspirata din anii 40
9. Trash-the-dress – Trash the dress (TTD) este arta, libertate de expresie, originalitate, frumos si unicitate! Trash the dress este un curent al fotografiilor de nunta ce imbina eleganta unui astfel de eveniment cu realitatea si frumusetea naturii. Asa cum ii spune si numele, acest stil de fotografii nu are rolul de a proteja rochia de mireasa, ci acela de a reda cele mai frumoase aspecte dorite de miri cu o astfel de ocazie. Astfel, mireasa si mierele pot poza in cele mai neobisnuite locuri, pe pamant, pe nisipul plajei, jucandu-se in apa, catarati pe stanci, intinsi intr-o poiana, pe strazi vechi, langa case parasite, pe santiere, dar si in mijlocul naturii rurale, langa animale, langa capite de fan, in ferme etc.
Pentru o nunta originala si totodata in tendinte, nu ezitati sa cereti ajutorul consilierilor nostri. Ne puteti trimite intrebarile dvs. prin e-mail si noi va vom raspunde in cel mai scurt timp.La Posh Events consilierea este GRATUITA!
Articol scris de agentia Posh Events: http://www.organizari-nunti-botezuri.ro/
Tel: 0723.322.815 / 0730.016.535

"Iti multumim pentru aprecierrea acestui articol."