12|09|2011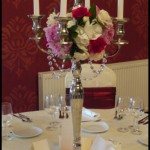 Belle Fleur Boutique Events
Descriere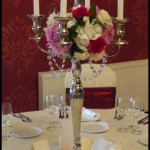 Belle Fleur Boutique este poate cea mai chic agentie de organizare de evenimente!
Echipa noastra reuneste o serie de profesionisti capabili sa transforme o zi speciala din viata ta intr-o adevarata feerie!
De la wedding planeri, designeri, maestri floristi, intreg departamentul de client serivice si pana la personalul de livrari, cu totii punem suflet in organizarea evenimentului tau.
Ne vom ocupa de toate detaliile. Creativitate in combinarea stilurilor avangardiste, contemporane sau traditionale, aranjamente simple sau sofisticate, folosirea unei game diverse de texturi si materiale – cate putin din toate pentru a implini dorintele, oferind contur si forma visului tau!
Facilitatile noastre de lucru (birouri, atelier si magazinul din Calea Victoriei 208), policalificarea personalului, precum si cooperarea cu o suita de furnizori de incredere, ne-au permis o buna coordonare a intregului proces de realizare a unui eveniment.
Reteta succesului – pasiunea pentru design, concepte inovative, repsectarea deadline-urilor, inalta calitate a materialelor utilizate, preturi competitive, maestrie in executie si nu in ultimul rand, colaborarea apropiata cu beneficiarii, furnizorii si coechipierii nostri.
Cele mai reusite evenimente sunt organizate din suflet!
Solutiile propuse de Belle Fleur Boutique sunt in trend cu ultimele tendintele mondiale si constituie un cadou superb, invaluit intr-un brand elegant!
– aranjamente florale pentru mesele invitatilor si prezidiu
– buchet de mireasa, nasa si domnisoara de onoare, butoniere si corsaje florale, lumanari cununie, aranjamente auto, sfesnice si stalpisori
o realizate din flori proaspete, imporate direct din Olanda, Blegia, America de Suds au Thailanda. Viziteaza magazinul nostru din Calea Victoriei 208, Bucuresti!
– tiparituri pentru nunta: invitatii, place carduri, meniuri
– marturii
– servicii foto-video
– hostess
– sonorizare: formatie, DJ, cvartet de coarde
– entertainment: dansatori- populari, latino sau orientali
– recuzita: cosuri cu petale, covor rosu, suporti din fier forjat pentru lumanari sau aranjamente florale, cutie de dar, vaze din sticla (cilindru, pahar de martini sau cognac), fete de masa, funde, huse pt scaune, servete, elemente decorative: lumanari, cristale, pene, etc.
Te invitam sa cunosti ECHIPA Belle Fleur Boutique care te va ajuta sa iti pui ideile in practica si va stii sa transpuna cerintele tale intr-un eveniment desavarsit:
Nicoleta Gherghevici- wedding planner & designer florist
Diana Arama- florist
Gina Vasii- wedding planner
Cristina Lazarescu – wedding planner & marketing manager
Dragos Lazarescu – senior designer
Alexandra Curtuius- designer
Roxana Arama- head of Client service
Adrian Hulei- head of delivery
www.buchet-flori.ro, www.bellefleur.ro, http://www.facebook.com/pages/Belle-Fleur-Boutique/127626180632954?ref=ts
Adresa: Calea Victoriei 208, Sector 1, Bucuresti
Etichete : AgentieAranjamente floraleOrganizare nuntiWedding planner

"Iti multumim pentru aprecierrea acestui articol."